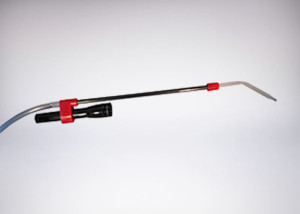 How a battery powered duster protects kids and pets while terminating pests
The Exacticide battery powered duster is the ideal solution for dealing with infestations of the most common household pests, whether insects or rodents. But many homeowners have a question: How do you get rid of household pests without endangering children and pets? Our battery powered duster is a safe pest management solution. It is equipped with the tech-reach bait gun extension is key to protecting children and pets while getting rid of infestations.
For example, cockroaches hide during the day and emerge at night to feed. Getting rid of them requires an exterminator to place insecticidal, non-repellant dust in their harborage—in other words, the areas where they hide during the day, such as inside wall voids or underneath furniture and appliances. The Exacticide battery powered duster's precision flow control dial allows users to apply a precise amount of insecticidal dust into cracks and crevices.
The 24-in. Tech-Reach Bait Pro bait applicator extension allows pest control professionals to reach above, behind and around furniture and appliances, eliminating waste.
Target termites with a battery powered duster
Termites justifiably have a reputation as one of the most destructive of household pests. Getting rid of them requires extremely precise treatments. A duster equipped with an extension hose enables pest-control professionals to reach high places without using ladders. It enables them to apply insecticidal dust accurately in hard-to-reach places. Importantly, these locations are out of the reach of children, cats and dogs. We have hose options of 6 ft. and 18 ft.
A torch light with mount provides light to pest-control professionals who encounter difficult situations while using the battery powered duster.
Bed bugs and beetles
Treating bed bugs effectively requires pushing insecticidal dust deep into carpet fibers. Bed bugs migrate across carpets at night as they search for a meal in the form of blood from a person or pet.
Add a Paint Brush Applicator to the battery powered duster to effectively paint dust into cracks, crevices and mattress edges, and in between sofa cushions. The Fiber Pole kit allows a technician to reach further into hard-to-access places such as attics, basements and crawlspaces. It extends underneath furniture and appliances and into wall voids.
The battery powered carpet applicator represents the latest in bed bug eliminating technology. It drives dust deep into carpet fibers. These accessories are also effective for treating infestations of various kinds of beetles, silverfish and scorpions.
Wasps and bees
As warm weather returns, homeowners often find wasps' nests and bee hives in inconvenient places such as the underside of eaves and decks. These spots often are hard for a pest-control technician or anyone else to reach.
The solution? Combine a battery powered duster with an extension hose kit. The light and rigid extension hose reaches high without the use of a ladder, while the duster ensures steady flow of dust.
Our organization also provides a telescopic extension pole, which can extend from 7 ft. to 24 ft., enabling technicians to apply dust exactly where it is needed to eliminate wasps and bees.
Rats, mice and other rodents
We reinvented the mouse trap. Our innovative solution to rodent infestations is a rugged rodent station that is suitable both for indoor and outdoor use. A tamper-resistant, single-key locking mechanism makes service easy. Because the stations can be serviced from a standing position, they eliminate technician fatigue from bending, squatting and kneeling. Gone are the days of traditional rodent-control solutions.
These bait stations are enclosed, meaning children and pets cannot access the bait. They also accommodate traditional snap traps for non-baiting solutions used with rats and mice.
The effective and professional pest control solution
Homeowners want a house that is free of bugs, insects, wasps, rodents and other pests. They're equally concerned with the health and safety of children, family members and pets. Today, battery powered duster technology from Technicide helps customers achieve both goals.
---
---
Leave a comment